A diploid cell or organism has two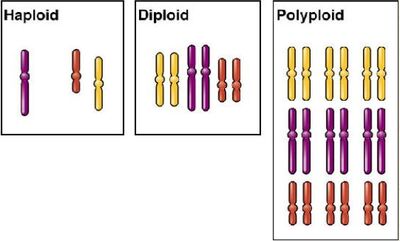 homologous chromosomes.  Often one chromosome is from the mother and the other chromosome is from the father.  (Homologous chromosomes are chromosomes that are similar in size and shape and encode the same genes.  It is important to note that while they encode for the same genes, they may not encode for the same genotypes and phenotypes.  A chromosome may encode for eye color and one of the chromosomes in the homologous pair may encode for blue eyes while the other may encode for brown eyes.  (I am sure eye color genetics is more complicated, but this is just an example) 
Organisms have also been observed in the haploid form (one chromosome) and polyploid form (more than two homologous chromosomes throughout the genome).  In the figure above, the polyploid organism has 6 homologous chromosomes making it a hexaploid. 
Ad blocker interference detected!
Wikia is a free-to-use site that makes money from advertising. We have a modified experience for viewers using ad blockers

Wikia is not accessible if you've made further modifications. Remove the custom ad blocker rule(s) and the page will load as expected.