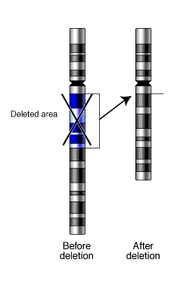 Deletions are unbalanced structural aberations (= they cause changes in the original amount of DNA) in which a part of the DNA is missing. They cause loss of genetic material.
Types of deletions:
Edit
Terminal deletions: terminal deletions occur at the ends of a chromosome
Intercalary deletions: intercalary deletions occur within the chromosome - from the interior of the chromosome
microdeletions: cause loss of just a small amount of genetic material
Causes of deletions:
Edit
Deletions can be caused by chromosomal breaks (generally leading to the loss of the acentric chromosome fragment), by unequal crossing-over (generation of deletions, but also duplications), as a consequence of abnormal segregation of chromosomes with balanced translocations or inversions. During pairing of chromosomes during meiosis the unpaired region generated by a deletion results in formation of a deletion/compensation loop.
Genetic consequences of deletions:
Edit
a heterozygote becomes monosomic for the part of genetic information, which is located on the corresponding fragment of normal chromosome
haploinsuficiency: inability of the single copy of genetic material to maintain the functions, for which two copies of DNA are necessary
LOH ("loss of heterozygosity"): loss of the dominant alele
gene deletion and contiguous gene syndrome (= syndrome caused by abnormalities of 2 or more genes, that are located next to each other on the chromosome)
Detection:
Edit
Big deletions can be discovered by normal cytogenetic methods. Nowadays the most commonly used assay for deletion detection is the CGH (Comparative genome analysis).
Diseases/Syndromes:
Edit
Interstitial deletions:
DiGeorge syndrome: microdeletion 22q11
Prader-Willi/ Angelman syndrome: 15q11-q13
Williams syndrome: 7q11
Terminal deletions:
Ad blocker interference detected!
Wikia is a free-to-use site that makes money from advertising. We have a modified experience for viewers using ad blockers

Wikia is not accessible if you've made further modifications. Remove the custom ad blocker rule(s) and the page will load as expected.